There are many North Cascade glaciers that are disappearing. Below is a list that we continue to update followed by the specific story of one of these. Glacier that have and are disappearing lack persistent accumulation zones. That is many years at the end of the summer there is no signficant retained snowcover. This happens particularly on glaciers that lack avalanche accumulation, this applies to most slope glaciers.
| | | |
| --- | --- | --- |
| Lyall Glacier, Frisco Peak | 5 East slope of Lago-Ptarmigan Peak | 3 North side Frisco Peak |
| Lewis Glacier, Corteo Peak | 4 North side Cutthroat Peak | 4 North side Cutthroat Peak |
| Milk Lake Glacier, Fire Mt. | 2 North side Mount Gilbert | 2 North side Corteo and Black Peak |
| Spider Glacier, Chiwawa Pk | 1 West side Mount Arriva | 2 North side Indian Head |
| David Glacier, Mount David | 5 Entiat Range | 1 South side Ptarmigan Ridge |
| Hinman Glacier, Mt. Hinman | 7 North side Mount Lago, Osceola and Carru | 4 North side Jonathan to Mount David Ridge |
| East White River Gl., Kololo Pk | 1 West Side Primus Peak | 1 North side Ptarmigan Ridge |
| Snow Creek Glacier, Little Annapurna | 1 East Ridge Mount Daniels | 1 Gap between Lynch and Hinman |
| North Branch Whitechuck Glacier, Kololo Peaks | 1 Northeast Mount Watson |   |
| 2 Sandalee glaciers | 1 South Side Sloan Peak |   |
List of glaciers from the USGS 1971 inventory that are now gone, those that are unnamed are listed by orientation on specific peak.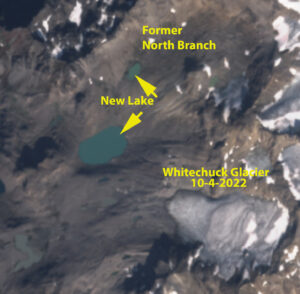 2022 Sentinel image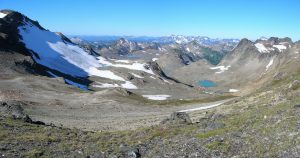 Field survey image 2002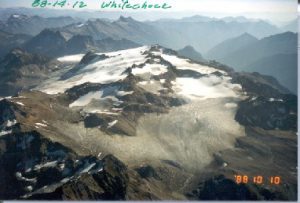 North Branch Whitechuck Glacier in October 2022 Sentinel image top, 2002 image looking downvalley in 2022 when it is gone. Bottom 1988 image with the north branch on the left side, no snow retained..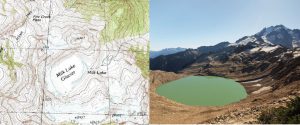 Milk Lake Glacier in USGS map and in 2005.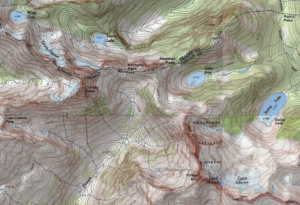 Lyall and Lewis Glacier in USGS map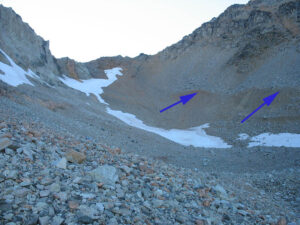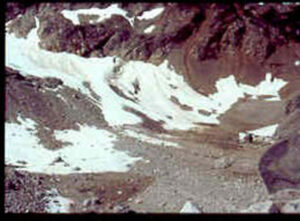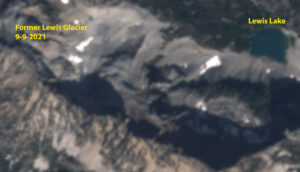 Former Lewis Glacier location in 2021 Sentinel 2 image, with 1988 and 1990 images from our field visits.
Former Lyall Glacier in 2021 Sentinel image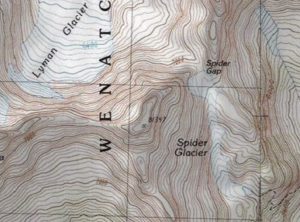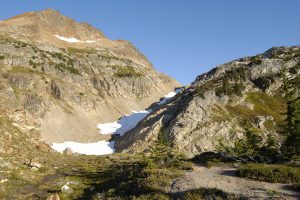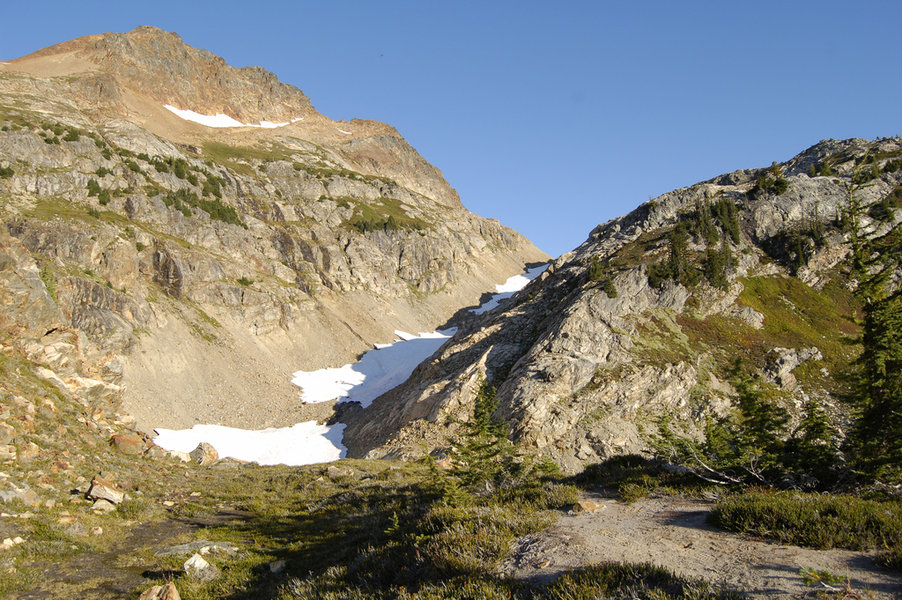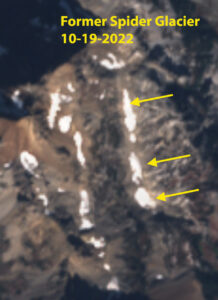 Spider Glacier in USGS map in 2007 and in Sentinel Image in 2022. This became a series of disjointed perennial snowfields in 2005.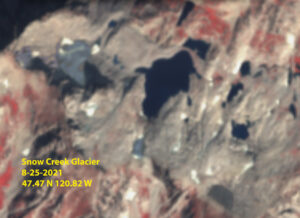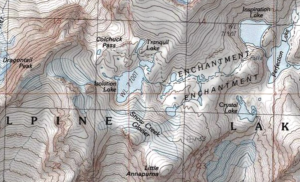 Snow Creek Glacier in USGS map and in 2022 Sentinel image.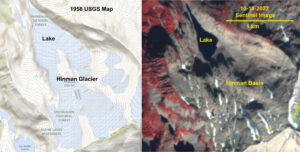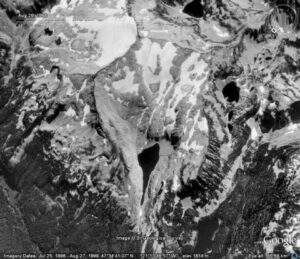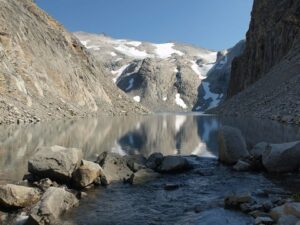 Hinman Glacier in 1958 USGS map and 2022 Sentinel image. The glacier went from the largest glacier between Mount Rainier and Glacier Peak to not existing by 2022. Above in 1998 Google Earth and 2009 image. There are a few small patches of remanant ice with areas of ~.01 km2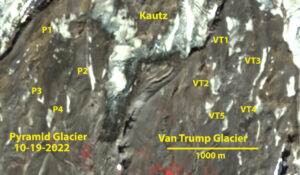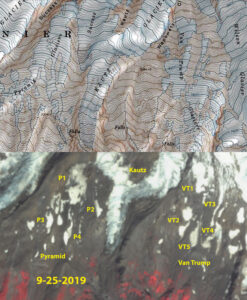 Van Trump and Pyramid Glacier on Mount Rainier no longer exist after the hot summers of 2021 and 2022 led to further fragmentation and area reduction. No single segment of ice exceeds 0.05 km2. Below is USGS map of region and 2019 image when the largest fragments still qualified as a glacier.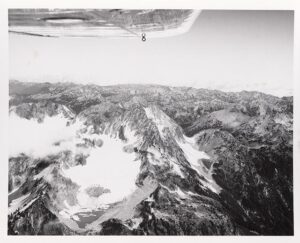 1959 aerial image of Anderson Glacier from Austin Post.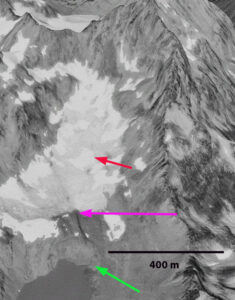 Anderson Glacier in 1990 Google Earth image above and 2009 image below. with lake indicating 1959 terminus green arrow, pink arrow 1990 terminus and red arrow bedrock knob below 2009 remanent.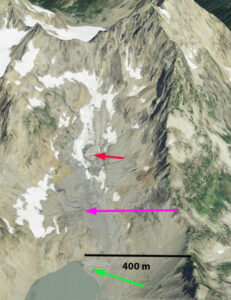 Anderson Glacier Olympic Range was a substantial glacier in 1959, that rapidly deteriorated after 1990 and was gone by 2009.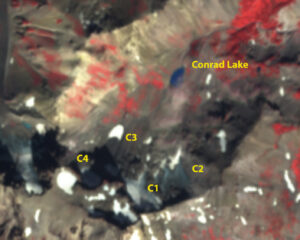 2022 Sentinel image showing four small fragments all less thab 0.04 km2.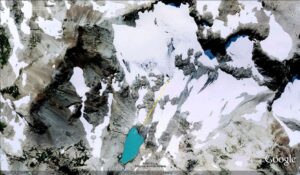 2006 Google Earth image
Topographi map when in contact with lake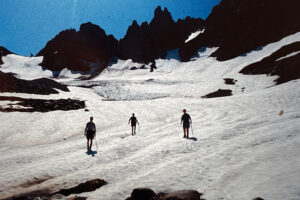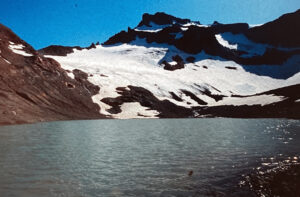 Conrad Glacier in Goat Rocks reaches Conrad Lake in the USGS map, by the time we mapped the glacier in 1993 it terminated 190 m from the lake, see images below, but was still a substantial glacier with an area of 0.2 km2. By 2006 it had retreated onto the upper slopes and by 2022 there was only four patches left none exceeding .0.04 km2.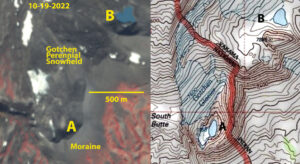 Gotchen Glacier on Mount Adams in USGS map and in 10-19-2022 Sentinel image with the largest remnant at 0.04 km2.